Alpine forest bathing
Breathe and recharge your batteries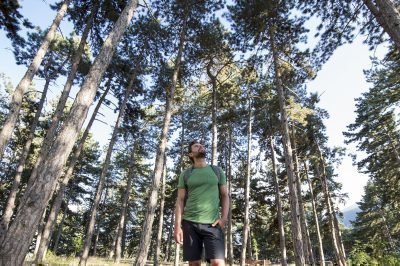 Fiè allo Sciliar, S. Costantino:
Tuesday: 12, 19 and 26 May 2020
Friday: 05 June 2020
Tuesday: 09, 16, 23 and 30 June 2020
from 9.00 to 12.00 a.m.
When we go forest bathing, we dive into the atmosphere of the forest with our every sense. In the peaceful woodland around the idyllic town Fiè allo Sciliar, we emerge from our everyday routine and come a little closer to our true selves as we watch, hear, touch, smell and taste the forest; through our senses, we create a direct, heartfelt relationship with nature. The ethereal scents released by the trees strengthen our immune system and bring us a sense of inner peace. We can relax to our very depths, and take a step close towards a life of vitality with a new spring in our steps.
Expert:
Monika Malfertheiner is a professional and dedicated InnerFitness®, Five Tibetans® and health trainer who is working with aspects of Nature Response®. During her sessions, she aims to impart a conscious awareness of body and spirit in relation to nature to her participants.
Info:
Meeting point: parking place in front of the S. Constantino church
Registration: at the tourist offices until 6 p.m. on the day before the event
Participation fee: 10.00 euro a person – free for guests of tourist office partner organisations