Sonorous sunset
Sound experience on the Calvary hill in Castelrotto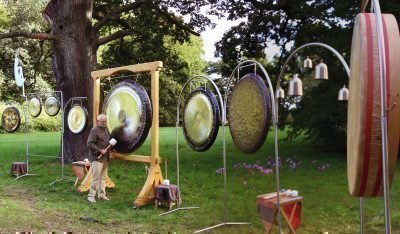 On June 26th 2020, sound artist Volker Lauckner will be playing a "Sonorous Sunset" concert with enormous planet gongs on the Calvary hill in Castelrotto. The sounds of the sun, the Earth, the moon, water, fire, cosmos, bells, gong drums and much more promise to be an unmissable experience.
At 4, 5 and 6 o'clock in the afternoon, there will be a presentation of the instruments: A close-up look is greatly encouraged!
The sound experience itself will begin at 9 pm and last for around 30 minutes.
Pythagoras, Kepler, Galileo and many more scientists and musicians have "translated" the mathematically calculable movements of our solar system into music; this has made it possible to create sounds for the sun, Earth and moon and play them on gongs. The instruments used vary from 75 cm to 150 cm and were produced in Germany by musician and gong-maker Johannes Heimrath from Sona Sound GmbH.

CASTELROTTO, COLLE:
Friday: 26 June 2020
Presentation of the instrumentsi: 4, 5 and 6 pm (à 15 minutes)
Concert from 9 until 9:30 pm
Free entry!
The concert takes place also in case of rain. In this case the location is going to be communicated the day before the event!
EXPERT:
Volker Lauckner, who has been working with the theme of "The Healing Potential of Sound and Music" for over 15 years, strives to bring our ancient knowledge of a harmonious rapport with all life into tangible form. One way to experience these primal origins is by listening to and playing tuned gongs. Volker Lauckner works as a sound therapist in the Leipzig area and, since 2006, has played a good 160 concerts in public areas, castles, gardens, churches, monasteries, monuments and much more.