Orthopaedic foot analysis and the right equipment
Advices about the right shoes for your feet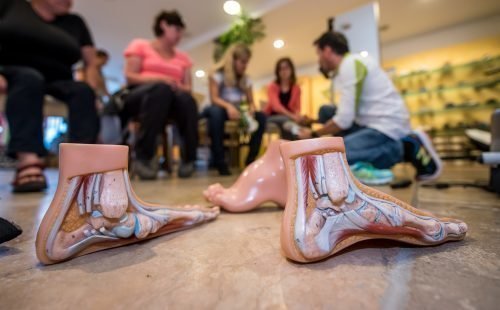 Tires al Catinaccio: Monday, 11 and 25 May 2020
Monday, 08 and 22 June 2020
Castelrotto: Monday, 18 May 2020
Thursday, 04 June 2020
Monday, 15 and 29 June 2020
from 4.00 to 6.00 p.m.
Our expert Rudi will analyse your feet and give you an advice about the right hiking and running shoe for you. At the "self-test" you will have the chance to ascertain how your running style affects your body, discover what a difference the right pair of shoes makes, and learn how greatly your feet affect your wellbeing.

Expert
Rudi Brunner is a dedicated runner and mountain sports enthusiasts. He has won, amongst other, the 2010 Vienna half marathon, and is also a trainer for endurance sports and performance diagnostics, orthopaedic technician and leader of running groups. Rudi will accompany and supervise runners from beginner level right through to advanced.
Info
Meeting point: Castelrotto, fountain in the village centre and Tires, fontain in the village centre
Registration: at the tourist offices until noon on the day of the event
Participation fee: 10.00 euro – FREE for guests of Seiser Alm Marketing partner organisations