"The Five Tibetans®"
Balance and energy for the whole body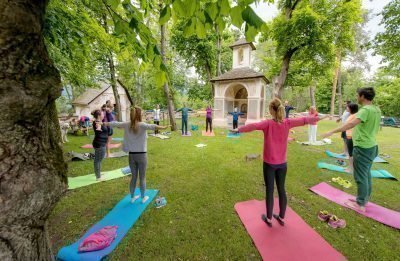 Castelrotto
Thursday: 14, 21 and 28 May and 04, 11, 18 and 25 June 2020
from 7.00 a.m. to 9.30 a.m. 
The "Five Tibetans®" is a series of five exercises for body and spirit. Their effect is holistic: The body is trained, metabolism boosted, immune system and hormone release harmonised, detoxification stimulated… and best of all: the exercises are easy for everybody and quick to learn.
Furthermore, the rustle of leaves on the Calvary hill with its meditative atmosphere, awaken all the senses. A simple, efficient method of caring for your body and bringing your whole being into balance.
Expert:
Monika Malfertheiner first learned about the Five Tibetans® while studying to become an InnerFitness® Trainer, and is a dedicated devotee of the five rituals.
Info:
Meeting point: Castelrotto, fountain in the village centre
Registration: at the tourist offices until 6 p.m. on the day before the event
Participation fee: 10.00 euro – free for guests of tourist office partner organisations