Buckwheat – the definitive guide to South Tyrol's native plants
Guided hike and awarded cousine in a hut
Wednesday: 9th September and 7th October 2020 | 14:00 – 19:30 p.m.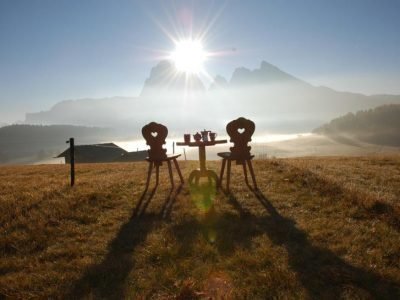 On this hike through the autumnal countryside from Compatsch, past the Ritsch Schwaige restaurant and on to the Gostner Schwaige mountain hut, Martha will tell you all the tales of the autumn traditions, sagas and legends of local lore. During the hike, participants will gather autumn herbs and learn all there is to know about the Butter Witches, the wild Saligen fairies and the sorcerer Kachler Hans and his legendary love of buckwheat dumplings. We'll be stopping off at the Gostner Schwaige hut for refreshments, prepared using the herbs we have gathered on the way. To round off, we will be helping Franz to prepare mouth-watering dishes of South Tyrol tradition: When you try these culinary specialities, you will see exactly why buckwheat is a recurring theme in so many sagas and legends in the holiday region Seiser Alm.
EXPERTS:
Martha Silbernagl, also known as Martha the Witch, will guide you on a hike over the Seiser Alm and tell you all there is to know about the mythical beings who dwelt in the holiday region Seiser Alm in times of yore.

Franz Mulser, award-winning chef and hut landlord, will be serving mouthwatering delicacies from his Alpine kitchen. He'll be helping you to prepare buckwheat dishes and dispensing a wealth of handy tips and tricks.
INFO:
Meeting point: Seiser Alm, Information office in Compatsch at 14:00 p.m.
Registration: at the tourist offices until noon on the day before the event
Participation fee: 50.00 € a person
In the price are included: the guided hike, an aperitif and the meal with starter and main dish, drinks and the taxi back to Siusi (valley station of the Seiser Alm cable car).
Max. number of participants: 20 persons