Fit-Walking with "Bergler"-refreshment
Banish stress, recharge batteries and enjoy a refreshment with local products
Friday: 4, 11, 18 and 25 September; 2, 9, 16, 23 and 30 October 2020 from 2 – 4 pm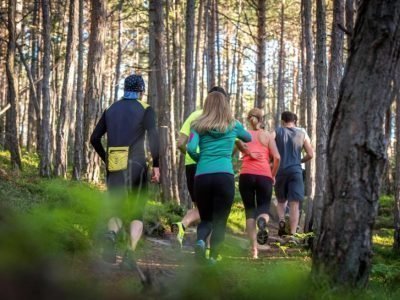 Fit-Walking is stamina hiking, health training, stress-relief and healthy movement in the open air, all rolled into one. Beginning with a power-walk start from the set-off point at Bagni di Lavina Bianca in Tires, we decelerate to a slow-walk speed as we approach the Wuhnleger Lake, with the Catinaccio Mountain reflected in its waters. A small mountaineer's refreshment awaits you there, where you can fortify yourself with the balance drink and regional products from Tires.
From there we take a loop-route back to Tires. When we move both our arms and legs while walking, numerous muscles are brought into play; breathing becomes deeper, blood circulation improves and oxygen supply increases.
EXPERTS:
Rudi Brunner is a trainer for endurance sports and performance diagnostics, orthopaedic technician and leader of running groups. Rudi will accompany and supervise runners from beginner level right through to advanced.
Egon Zuggal has set himself the goal of spreading joy and sport. As a sports group leader, Functional Fitness trainer and outdoor sportsman, giving people lasting memories through healthy movement in the open air is particularly dear to his heart.
INFO:
Meeting point: Parking space Bagno di Lavina Bianca in S. Cipriano/Tires at 2 pm
Registration: at the tourist offices until 6 pm on the day before the event
Participation fee: 10.00 euro a person – free for guests of tourist office partner organisations