The Magic of the morning
Movement in the morning sun and healthy, alkaline appetizer
Thursday: 3, 10, 17 and 24 September 2020; 1, 8 and 15 October 2020from 8:30 – 11:30 am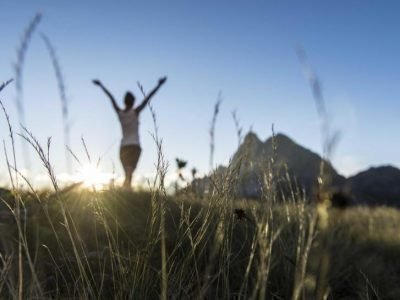 In the morning, we take the Marinzen charlift to the Alpine pasture of the same name, towering on high above Castelrotto. The breath-taking, sweeping landscape is the perfect place to recharge your batteries, especially in the morning sun. Surrounded by larch trees – the trees of light and grounding – we charge our energy through breathing exercises. During the following phase, a retreat ritual, we store the energy of this power site within us, storing up the strength to see us through winter and enhance our stamina.
To round off, we feast on healthy alkaline-based appetizer at the picturesque lake and gather a series of tips and snack ideas to use at home.
EXPERT:
Monika Malfertheiner is a professional and dedicated InnerFitness® and Five Tibetans® trainer who is working with aspects of Nature Response®. During her sessions, she aims to impart a conscious awareness of body and spirit in relation to nature to her participants.
INFO:
Meeting point: Parking space at the Marinzen chairlift in Castelrotto at 8:20 am
Registration: at the tourist offices until 3 pm on the day before the event
Participation fee: 10.00 euro a person – free for guests of tourist office partner organisations